Perfect Glow Sunless Featured In The Knot!
Perfect Glow Sunless was featured in the Knot! You can say YES to the spray tan but NO to the orange 🙂 Bridal tanning is a huge beauty service and here are some of my expert bridal spray tan tips featured on the Knot.com
And of course using the best spray tan products like Perfect Glow Sunless is key!
https://www.theknot.com/content/bridal-spray-tan-dos-and-donts
10 Dos and Don'ts of Getting a Bridal Spray Tan
Say "yes" to the tan (without the orange).
by Parker Butler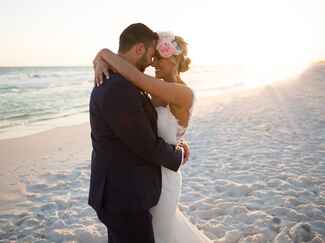 photo by AMY RILEY PHOTOGRAPHY
We've all heard the horror stories of spray tans gone wrong (the streaking, the peeling, the orange tint that never seems to fade). Though some brides choose to go natural to avoid the risk of a tanning mishap, not all sunless tanning options lead to disaster—with the right research and professional treatment, a spray tan might be the perfect sun-kissed finish to your bridal look. Leaning toward the idea of a fabulous faux glow? Melissa Weinberg, founder of Perfect Glow Sunless, shares her top spray tanning dos and don'ts.
1. Do: Research professional salons with bridal tanning specialists.
Finding the right spray tan professional is super important. Research spray tan salons with experts who specialize specifically in bridal tanning, that way you know your skin is in the right hands.
2. Don't: Argue with your specialist when it comes to color.
Once you find your pro, listen to them when it comes to picking the right shade for you (especially if they tell you to go with a lighter one). "I always recommend they go light and natural," Weinberg says. "A bridal tan should enhance your natural beauty and not overpower it."
3. Do: Schedule spray tan trial sessions.
Schedule trial sessions at least one month in advance to allow you and your spray tan specialist to customize a color and solution that best suits you (because the last thing you want is to look like Ross from Friends after his tanning fiasco). If you don't have time for a trial session, ask your specialist to test a patch of skin. "Your stomach or legs should be good [for testing] if you'll be wearing a long gown," Weinberg says.
4. Don't: Spray over an old spray tan.
Schedule your last trial several weeks before your wedding day so you aren't spraying over an old spray tan. "I compare [spraying over an old tan] to getting a manicure without taking the old, chipped nail polish off first," Weinberg says. "Up close, it's not going to look good, and every bride's wedding tan should look perfect."
5. Do: Exfoliate your skin.
Exfoliate your skin a day or two before your spray tan appointment, and use gloves instead of a washcloth. But…
6. Don't: Exfoliate the day of your spray tan appointment.
You shouldn't use any scrubs, oils or lotions the day of the appointment. "Oils leave a film on your skin that can create a barrier and possibly block the spray tan absorption," Weinberg says.
7. Do: Wait to shower.
We know that post-sprayed feeling isn't ideal, but hold off on showering after your spray tan appointment. The time it takes for a spray tan to properly set depends on the type of tanning solution used, so ask your specialist how long you should wait before showering.
8. Don't: Use soap.
"Many commercial bar soaps create havoc on a spray tan," Weinberg says, so avoid using soap during your first rinse. Use a salon-recommended soap for the following showers to avoid any fading or blotching.
9. Do: Get other treatments done before a spray tan.
You should absolutely pamper yourself the days leading up to your wedding, but make sure to book any spa treatments for before your spray tan appointment. Weinberg suggests you plan any massages, mani-pedis and sauna detoxes before your appointment to avoid accidental smearing or removing of the spray tan.
10. Don't: Be afraid to ask questions.
There's no such thing as too many questions here. Ask your specialist to describe their spraying methods as well as the salon's ingredients, bronzers and fade times. "Even if you've spray tanned 100 times, every salon uses different sunless tanning solution," Weinberg says. Spray tan preparation and preservation are just as important as inquiring about the tanning process. Weinberg suggests  you ask for a printed list of aftercare instructions to make sure you prolong your glow from your wedding day through the honeymoon.